VEE
:
With the reappearance of DS, I guess the blog has regained the OP half of OPCarm. This does not mean that I will stop trying to totally Carmelize the blog though!! :D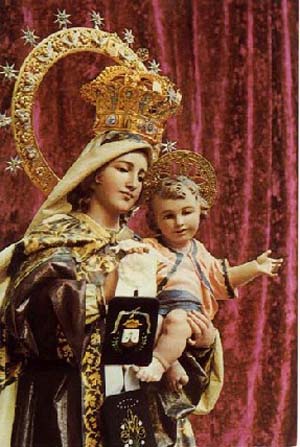 St Teresa of Avila said that meditating on the Passion often will benefit you greatly and she's right of course. There is nothing I can't come to understand in my life that is not learned from reflecting on Christ's Passion. He has forgiven me first and in that I am able to learn to forgive others. Did Jesus suffer through His Passion alone? No, and we do not get to heaven alone either. In any vocation in life we are called to know, love and serve God, and to help others to do the same (I stole that line from Mother Angelica.) In marriage the goal is to help each other get to heaven and the children as well, not to just get married and be alone together in some love nest isolated from the world at large. In religious life the goal is to not just become a priest, brother or sister. All things are done for the greater glory of God (AMDG :D ) and to help others get to heaven as well.
The same is true for friendships and that does not exclude them from trials and tribulations. The trials will come in any vocation because any vocation is the way of the cross.
In my role as a daughter I am now carrying the cross of my mom having cancer that is in her spine, her lungs and who knows where else. The news is fairly recent and further testing is being done. I have to deal with my mom as she comes to terms with that and her new physical limitations as her bones are so fragile she can't lift more than ten pounds, etc., etc. It has come to that stage in my life where in some ways the child now becomes the parent to care for the parent who has become more like a child. I struggle to be a good daughter and a good friend. Basically the only person I can't upset and get rid of, even if I try, is St Therese who helps me to learn to bear wrongs patiently and loving since she puts up with my crap all the time. Im a terrible student!!