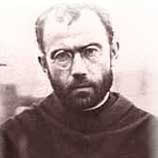 Today the Holy Church celebrates the life of St. Maximilian Marie Kolbe, known as the martyr of charity. He is called such because he died for the life of a fellow prisoner, Franciszek Gajowniczek, in the concentration camp at Auschwitz. Franciszek was chosen by the Nazis as one of ten men destined for the starvation bunker in retaliation for two prisoners escaping. The man begged for mercy, exclaiming he was a husband and father. St. Max stepped out of line (a move that could get you killed,) approached the Nazi leaders and asked to take Franciszek's place. When they discovered St. Max was a priest, the trade was made. Witnesses say that St. Max prayed with the prisoners, said Mass in the bunker, gave them all last rites, and gave them as much consolation as one can give in such a hellish place. After two weeks, everyone was dead but St. Max. The Nazis then injected him with carbolic acid to kill him. His remains were burned in the giant stoves of the camp.
Franciszek survived Auschwitz and lived for another 53 years.
A few years back, I was in Libertyville, Illinois at the Shrine that is dedicated to St. Max's memory. I saw a few of the locks of his hair that the prisoners of Auschwitz were able to save. These relics are on display. Even though this is all we have left of his person, St. Max left us a more powerful example of the love we are to have for our fellow man.
"Greater love hath no man, than to lay down his life for his friends."---Jesus Christ