DS
:
Today my great state is celebrating the 176th anniversary of its independence from Mexico. The rebellion that ended in a republic was ugly, unjust, and its participants are probably now suffering hellfire for all eternity. The history of Texas taught to me when I was a wee child was a pack of bull poo. It made the mexicans look like the most vile human beings on the face of the earth and the anglos the heroes. I'm glad that I can research what really happened in order to better appreciate the creation of this state that is very dear to my heart. Yes, despite the ugliness of the war, the awful racism and injustice that conceived it, I love Texas. I consider myself a Texan-American and I wouldn't want to live anywhere else. God has a way of bringing goodness out of evil. Texas is a prime example of this.
V
EE
:
I wash myself with a Texas flag on a stick. Furthermore
Happy Independence Day, y'all!
TO ALL MY TEXAS READERS! CHEERS!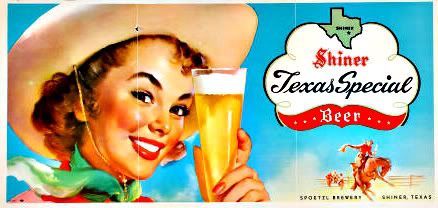 Vee, get ur butt down to Texas so we can go to the Shiner brewery!
VEE:
Shiner beer?!?!?!?! Welllll.... I guess there are SOME good things about Texas after all. Wait, are you trying to lure me down there with beer so you can kick my butt for making fun of your lame-o state???
DS:
Just come on down...I'll be waiting for ya...